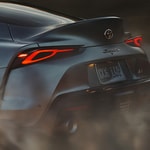 The previous model of the Supra has nothing on the new one. Toyota has gone all out to create the best possible sports coupe on the road with a finely tuned engine that is the most powerful for the base price. Toyota has truly morphed the Supra into a challenger on the track. The new engine delivers 335 horsepower and 365 lb-ft of torque. With an inline 3.0-liter six-cylinder engine, you can really feel the pickup and acceleration anywhere on the road, whether you are just pulling out of a parking spot or headed down the highway to the office.
The Supra has the same inline six-cylinder engine found in the BMW M340i and Z4 M40i. However, it's tuned differently and gets more fuel efficiency than most sports coupes. The eight-speed automatic transmission makes it easy to shift into higher gears, and you can change the driving mode depending on how you want to customize your experience. The Supra gets to 60 mph in just 4.1 seconds and goes up to 155 mph for a top speed.
If you are looking for a sports car with an affordable price, sporty exterior, and extremely powerful engine, the GR Supra delivers. You can check out the latest models at Dayton Toyota when you stop by for a test drive in Brunswick.