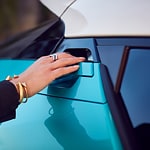 Toyota C-HR's spacious cargo/passenger areas and its high-tensile steel body make it practical and exceptionally crashworthy. The complete list of this popular subcompact crossover SUV's safety features is too long for this short blog post. To keep things brief, our Dayton Toyota team selected two features to spotlight.
Cutting Edge Backup Camera
Forget straining to see what's behind you via your rearview or sideview mirrors. Toyota C-HR includes a bold, full-color, 8-inch, in-dash screen with an integrated backup camera. The camera displays a pristine image of what's behind you, helping you back up or out of tight spots without having to strain your neck or turn around in the driver's seat.
Hard Braking Assistance
Just in case you need to brake hard, Toyota C-HR has your back. Its Brake Assist feature matches your hard brake with additional braking force, bringing the SUV to a full, sudden stop if necessary. Just in case.
See all of the Toyota C-HR safety features in action during a test drive at our South Brunswick dealership.