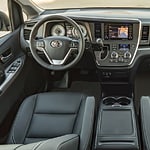 The most precious cargo a car can carry are the passengers inside. When you have a family or loved ones that need the extra space, a minivan is the perfect solution. The 2020 Toyota Sienna is an extremely popular minivan that understands the needs of South Brunswick families. For this reason, the 2020 Sienna offers numerous comfort features and convenience amenities that make life easier for a family on the go.
Entertainment On The Go

The 2020 Toyota Sienna sports a 16.4" Dual-View Blu-Ray Disc Entertainment center. This feature treats the kids to either one wide screen format movie or two movies playing simultaneously. The feature treats parents as well to a more peaceful car ride with its two wireless headphones.

Configure Your Perfect Interior

Whether you need plenty of seating or a flat load space, the 2020 Toyota Sienna has you covered. A Split and Stow 3rd row seat allows drivers to configure a perfect interior. This feature is also available with power seats.
Take the Leap

?The 2020 Toyota Sienna is the ultimate convenient family vehicle. Allow you and your family to experience the Sienna difference today. Visit our team at Dayton Toyota today to test drive the 2020 Toyota Sienna.