Shopping for your next Toyota is a wonderful experience. With every model that you consider, you get a little preview of what your driving life might be like in the future. Toyota research allows you to dream about the clean efficiency of the Prius, the raw power of the Tacoma, or the fresh style of the Avalon.
In fact, the only frustrating part about exploring the world of Toyota is, at its core, a positive thing: there are just so many different options to choose from! That's why our Dayton Toyota team created this extensive library of Toyota trim level reviews. If you have any further questions, contact us today.
Until then, we encourage our customers in South Brunswick, Freehold, and Lawrence to keep reading!
How should I use these Toyota trim level reviews?
That's the question that you're probably asking yourself right now-we'll illustrate a few examples.
Let's say you're interested in the Toyota Camry, but you don't know whether you want to go with the Toyota Camry LE, the Toyota Camry SE, or the Toyota Camry XSE. One of our helpful Toyota Camry trim level reviews can teach you more about the safety systems available on each of these trim levels.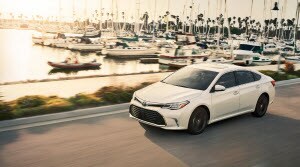 Or, perhaps you like the Toyota RAV4, but you're undecided between the RAV4 LE, the RAV4 XLE, and the RAV4 SE. The applicable article will cover the engines specs and off-road capabilities for each trim.
Lastly, maybe you want the Toyota Tundra, but you're unsure of which Tundra provides the towing power you need to get the job done at work. If we have a Toyota Tundra trim level review page, it'll help.
Our Dayton Toyota Trim Level Reviews
Each article will cover features, systems, and specifications pertaining to performance, fuel economy, safety, security, entertainment, comfort, design, and other categories. Why not check them out now?
If you're a driver in Lawrence, Freehold, South Brunswick, or any of the surrounding New Jersey towns or cities, then we encourage you to browse this page today. Find something you like and read it!