Toyota and Nissan are two of the most recognized and established names for providing safe and reliable midsize cars. Today, they both continue as one of the most popular choices among those seeking an affordable and well-rounded midsize vehicle. Therefore, it's no surprise that a Toyota Camry versus Nissan Altima debate currently exists.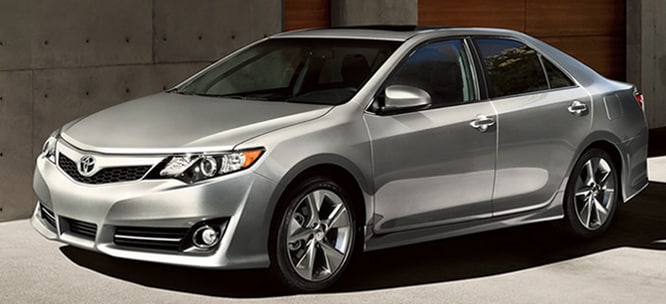 Trims and Features
On the exterior, both the Camry and Altima provide a comparable amount of sophistication and style. Further, they combine this with a superior level of safety and dependability. Toyota Camry models vary from 4-cylinder, V-6, and gas-electric hybrids.
Four trim options are available. The basic L and mid-grade LE come equipped with a 4-cylinder engine. The newest edition to the 2014 lineup consists of the SE Sport. This entails a sport-tuned version of the Camry, equipped with a sport suspension.
It is standard that this version comes with a 4-cylinder engine but with the option to upgrade to V-6. Alternatively, the V-6 engine comes standard in the upscale XLE trim level. Nissan Altima, however, only provides an option between two model series.
More specifically, the 4-cylinder engine is equipped in the 2.5 models or the V-6 is equipped in the 3.5 models. Both model series share S, SV, and SL trim level options. Both the Camry and Altima available features and options largely depend on such factors as trim level and engine size.
Notable features standard in the Camry and Altima include a 1st row LCD screen, 12-volt power outlet, and auxiliary input jack, along with MP3 and Bluetooth capabilities. Features standard to all Camry models include cruise control, rear-view mirror cameras, as well as six-speaker stereos with a USB port and iPod adapter. Moreover, the Camry exterior comes standard with daytime running lights, fog lights, and spoiler. Altima only offers comparable features as additional options or with certain vehicle model upgrades.
On the other hand, Altima comes standard with remote trunk release, keyless entry, push-button start, along with a panic alarm and a content theft deterrent alarm. These options only come standard or as an additional option with certain Camry trims. Ultimately, in the Toyota Camry vs. Nissan Altima comparison concerning features, there is no clear-cut winner. Both come standard or with the option for a number of cutting edge features.
Engine and Performance
The 2.5-liter 4-cylinder Camry produces 178 horsepower, while the same engine in the Altima produces 182 horsepower. The 3.5 liter V-6 Camry produces 268 horsepower, while the V-6 Altima produces 270 horsepower.
The V-6 comes standard in SE and XLE versions of the Camry. Additionally, the combination of front-wheel drive and a 6-speed automatic transmission come standard in the Camry. The SE version comes equipped with paddle shifter. Camry Hybrids utilize an electric assist motor and nickel metal-hydride battery pack in combination with a 2.5-liter 4-cylinder engine to produce 200 horsepower.
Comfort and Safety
In the Toyota Camry vs Nissan Altima comfort and safety comparison, the Camry clearly comes out on top. Overall, the Camry provides a smooth and comfortable ride. Furthermore, it continues to remain one of the most spacious and roomier cars within its class.
Overall Performance and Value
The MSRP for the Camry runs between $22,235 and $30,705, while the Altima falls between $22,110 and $30,760. Even so, the Camry takes the cake when it comes to value, especially when Camry models come standard with a number of features and options that Altima otherwise charges for.
In consideration, those living in the S. Brunswick New Jersey area should consider visiting the
Dayton Toyota
21-acre state of the art facility for an endless number of options, in addition to unmatched customer service.