Routine wheel alignments are essential to your car's longevity. It enhances performance, preserves its overall condition, and makes getting to your destination around South Brunswick, Freehold, and Lawrence safer and more enjoyable.
However, what exactly is a wheel alignment and why is it important? To find out, Dayton Toyota is here with everything you need to know about this essential automotive tire service.  
What is a Wheel Alignment?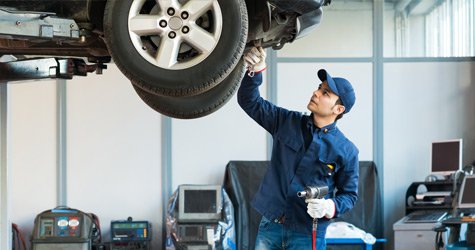 A wheel alignment is a fundamental automotive service that can help improve handling, safety, and the longevity of your tires. It involves modifying various components of the suspension and steering to ensure all wheels are correctly positioned.
Once your car gets this essential service, it'll be able to produce a smoother and safer performance. When done regularly, it can help extend the longevity of your tires, as well as the overall condition of your vehicle.
The Importance of Wheel Alignments
Your wheels should always be correctly aligned to make sure you get the dependable performance needed to get to where you need to go. However, driving over potholes or uneven streets can affect alignment.
When wheels are misaligned, handling often decreases, and steering problems can occur as well. On top of that, the tires on your vehicle can experience extensive wear and tear.
With misaligned wheels, weight is not evenly distributed across a tire, which causes uneven treadwear. Driving with uneven treads leads to decreased traction and reduced efficiency. It can even increase your risk of getting into an accident, especially in slippery conditions.
To avoid these performance and safety issues, the best thing you can do is to schedule a wheel alignment regularly.
How to Know if You Need a Wheel Alignment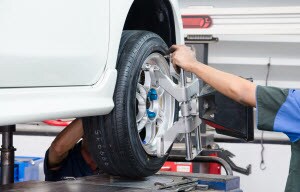 Pulling, uneven tire tread wear, and steering problems are all signs that you need a wheel alignment. However, looking at your tires can also help you determine when you need to get this automotive service.
Here are some things you need to check to see if you need a wheel alignment
Camber: The camber, or how your tires stand, should be completely straight when you're looking at them from the front of your car. If the wheels are leaning inward or outward, get a wheel alignment.
Toe: The toe refers to the position of the wheels relative to each other. The toe of your tires should always face forward. When the front of your tires are pointed towards or away from each other, your wheels are misaligned.
Caster: The caster is the angle of your steering axis from the side of your car. Like the toe and camber, the caster should always be straight. If it is leaning forward or backward, you'll need to get your wheels aligned.
Schedule a Wheel Alignment
With routine wheel alignment, your car will be able to perform like new for as long as possible. So, if you're due for an alignment or are experiencing any warning signs, contact our service center near South Brunswick, Freehold, and Lawrence. Schedule a service appointment at Dayton Toyota now.