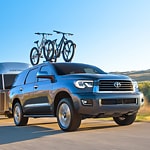 If you're interested in a quality full-size SUV, the Toyota Sequoia should be on your list of vehicles to consider. Not simply because it's popular, but because it's rich in features.
Apple CarPlay

We live in an age where drivers like to stay connected. The Toyota Sequoia lets you do that with Apple CarPlay. You can get clear directions and enjoy music. That's just the beginning! The best part is you can stay focused on the road in the process.

Android Auto

?Android Auto is another tech feature in the Toyota Sequoia that optimizes connectivity.
Read More