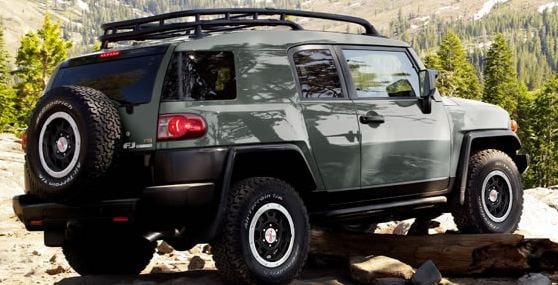 The 2014 Toyota FJ cruiser revitalizes the classic off road Toyota vehicle. Delivering exceptional off road performance is what makes the 2014 FJ Cruiser worthy of the FJ namesake, and practical on road driving is what makes this vehicle an ideal choice for an adventurous yet practical driver.  
Engine
The 2014 FJ Cruiser comes standard with a 4.0 Liter V6 with duel electronic variable valve timing for an impressive 260 horsepower and 271 lb/ft of torque. This engine is mighty enough to tow up to 5000 pounds with trailer, while maintaining a respectable 20 miles per gallon on the highway, 16 mpg in the city for an average rating of 18 miles per gallon. 
Matched with the engine is a standard 5-speed electronic controlled automatic with intelligent shift patterns to optimize engine potential. Standard equipment also includes an electronic limited slip differential on the rear axle, maximizing traction in the 2 wheel drive variant. Also available is a 6 speed manual transmission connected to a 2 speed transfer case for ideally controlling the optional 4 wheel drive machine. 
Features
The suspension is independent front axle offering 8 inches of wheel travel coupled with a 4 link rear suspension providing 9 inches of wheel travel. The beefy suspension offers ideal off road climbing abilities as well as comfort on the road. 
Options are offered in two packages. The convenience package offers remote keyless entry, cruise control, power mirrors with lighted indicators, rear window wiper, exterior spare tire cover, auto-dimming rearview mirror with integrated backup camera. The Upgrade Package includes 17" alloy wheels, active traction control on 4 wheel drive models, an AC power outlet, JBL sound system with 11 speakers (including subwoofer) and 6 disc changer, leather trimmed steering wheel, and multi instrument display with inclinometer, compass and thermometer. 
Interior

The 2014 Toyota FJ Cruiser is a formidable off road vehicle. Its spacious interior, offering 66.8 cubic feet of cargo space, is full of comfortable amenities to make it a good choice for a versatile on road vehicle as well. The Toyota FJ is an iconic off road vehicle of the past. 
The 2014 FJ Cruiser continues the tradition of off road performance, and builds upon the legacy by offering a versatile everyday driving machine. The rugged appearance of yesteryear is replaced with a more refined, modern exterior appearance. The FJ Cruiser is still every bit the off road vehicle it was inspired by. Now, with the 2014 FJ Cruiser, you can carry on the legacy with all of the modern amenities and comforts that make a Toyota a Toyota. Come visit Dayton Toyota today in South Brunswick NJ.