There's no denying it: Toyota Prius was a game-changer. It brought an entirely new concept to the automotive consumer, and that concept's time had come. Manufactured by Toyota Motor Corporation, and first released as a compact sedan in 1997, the Prius essentially introduced America's 150 million drivers to the concept of a functional gas/electric hybrid car. 
Prii (yes, that's the correct plural of 'Prius') were preceded onto the forecourts by one other mass-produced hybrid, the Honda Insight, which hit American roads seven months before the Toyota product. However, this odd little two-seater was never really a marketplace presence, only managing sales of 17,020 units before being replaced by a second generation in 2009. 
As of 2014, Prius -- formerly a compact sedan -- is sold as a mid-size five-door hatchback. 
Prius is a full (also called a 'strong') hybrid car. This means it can run solely on battery power alone, as well as just its engine, and also a combination of both. 
Mild hybrids -- vehicles where the electric motor is incapable of propelling the vehicle without conventional engine assist -- use markedly different technology to provide around ten percent fuel savings; a gigantic starter motor, usually located between the engine and transmission, allows the engine to be automatically switched off when not under load, then quickly restarted. This means that the vehicle is not consuming liquid fuel when coasting, for instance down hills or when stopping, yet all electrical accessories continue to function. 
Both the Environmental Protection Agency (EPA) and the California Air Resources Board (CARB) are great Prius fans, rating the vehicle among the cleanest vehicles ever sold in the United States.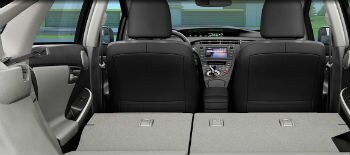 Milestones 
Prius sales across the globe hit one million vehicles in May of 2008, two million in September of 2010 and three million in June 2013. One million Prii had been sold in the U.S. by April 2011, only twelve years after its American-market release. As a comparison, the best-selling car in the U.S. -- Toyota's Camry -- only sold 29,964 units in December 2013. 
The Prius, pardon the pun, has indeed been a sales dynamo.
The third-generation Prius debuted for the 2010 model year with a new, more aerodynamic body design that reduced drag coefficients, and an underbody fin located toward the rear of the vehicle which increased stability at higher speeds. The gasoline engine was boosted from 1.5 liters to 1.8, which may initially seem counter-intuitive. In fact, a larger motor increases torque, in turn decreasing engine speed (revolutions per minute), thus reducing fuel consumption. The new combo, with electric motor engaged, develops a total of 134 horsepower. 
This made Prii the most efficient cars available in the U.S. (powered by liquid fuel), with an EPA-estimated fuel-efficiency of 50 mpg combined. They use electric components -- such as the power steering and water pump -- where conventional engines employ mechanical equivalents, which further reduces gasoline consumption. 
Batteries 
Of course, a large, high-capacity battery array is required for battery-only operation. The trade-off between weight and performance must be such that fuel is actually saved when that additional mass is dragged around in real-world operating environments, rather than in sterile and manipulative laboratory conditions. Light weight equals optimized operation.
Traditional third-generation Prii use a nickel-metal hydride battery, weighing 93 pounds and holding a capacity of 1.3 kWh. 
2014 Toyota Prius Plug-In 
The Toyota Prius Plug-in Hybrid (also known as Prius PHV) shares its stable-mates' third generation platform, but sports 4.4-kWh Panasonic lithium-ion batteries which provide for higher-speed, longer-distance all-electric operation. The batteries are located under the rear cargo-area floor. 
Three different batteries are used to power the plug-in. At start-up, all-electric mode is engaged and power is drawn from the first battery pack. When charge is depleted there, the operating system disconnects it from the drive circuit, and engages the second pack. When the second pack is in turn depleted, it disconnects and the system defaults to using the main battery and conventional gas/electric hybrid mode. The vehicle must then be plugged in to charge packs one and two, after which the cycle repeats. 
The full drivetrain is:
1.8-liter, port-injected inline four-cylinder gasoline engine

60 kW, 80 horsepower electric motor

One-speed planetary-gear transmission

 
Drivers can expect the following:
Total range: 540 miles

Total all-electric range: 11 miles

Maximum electric-only speed: 62 mph

Full battery pack charge time: 180 minutes

EPA fuel economy rating: 95 mpg gasoline equivalent (in all-electric mode)

Combined city/highway rating: 50 mpg (in hybrid mode)

 
Options 
The 2014 Prius Plug-in is available in two models: an entry-level with no specific designation and the Prius Plug-in Advanced. 
Standard trim includes:
Air conditioning

Backup camera

Heated front seats

Navigation system

Three-door smart key (with push-button start)

Touch-screen display audio

 
To learn more, and to schedule a test drive, buyers across all central-north Jersey are heading to Dayton Toyota in South Brunswick.