When you're looking for a sporty and drivable sedan, there are plenty of cars to choose from. However, one big change you'll quickly find out is that you don't have to spend a lot of money to buy a sedan that looks nice and is fun to drive. In recent years, cars have seen an increase in quality without a negative overall impact on price. What follows is a quick review of two popular and affordable 2015 Toyota Camry and the Mazda 6.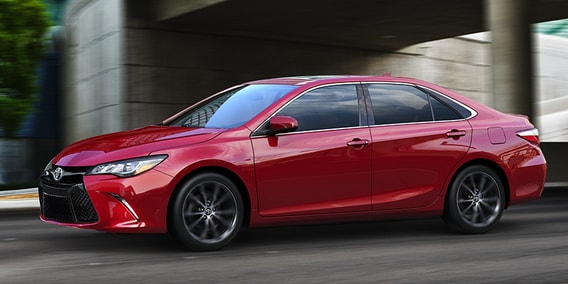 The Exterior And Styling
Toyota Camry:

The Camry has an updated look for 2015. It is a car that has had its overall look improved in several ways. The headlights are better shaped, the overall lines are more swept back and the overall design is wide and low. Simply put, it is a stylish and modern look.
Mazda 6:
The Mazda 6 looks the part of a speedy and stylish car. It has well defined and noticeable lines along its fender and wheel wells. The roof is swept back and the overall backend design is minimalistic and well measured. Overall, the car is also a bit longer for 2015 and visibility has been improved.


The Interior And Features
Toyota Camry:
On the inside the Camry has a pleasing layout. Along with larger and easier to use controls there are also upgrades to the fabric trims. The overall ride is a smooth one and road noise is minimal. Basic features include power everything, air, cruise control, a rear-view camera, and keyless entry. Options include leather trim, sports suspension, 17-inch wheels, chrome accents, connectivity, and a larger screen on the fully integrated infotainment system.   



 

Mazda 6:
On the inside the 6 is well made and inoffensive but lacks the overall punch of its exterior design. Overall, everything works but the optional GPS system when installed doesn't fit the overall design and looks added on. Base features include air, power everything, cruise control, push button start, Bluetooth, a touchscreen infotainment system, rear-view camera, and USB connection ports. Options are plentiful and include 19-inch wheels, traffic lane alerts, leather trim, heated seats, and a moonroof.
    
The Engine And Fuel Efficiency
Toyota Camry:
The Camry comes with a variety of choices for engines. The stock engine is a 2.5-liter four-cylinder engine offering 178 horsepower. Fuel efficiency rates at 25/35 mpg. The V6 option is a 3.5-liter engine offering 268 horsepower and an estimated fuel efficiency of 21/31 mpg overall. There will also be a Camry hybrid option available which is reported to be at 43/39 mg overall but final ratings are not yet out. A front wheel drive automatic transmission is common across the product line.  
Mazda 6:
The 6 comes with a stock 2.5-liter four-cylinder engine offering 184 horsepower. In terms of efficiency it gets an estimated 25/37 mpg with a manual transmission; the automatic gets an estimated 26/38 mpg. Add the i-ELOOP feature and mileage increases to 28/40 mpg.


When You Need An Automobile
In the greater South Brunswick, NJ, area, you have a choice in automobile dealerships. However, when you want a dealership that focuses on customer satisfaction and helping you find the car you need, Dayton Toyota is here to help. Our experienced staff will make sure your car buying experience is an enjoyable and stress free event. If you're in the market for a new Toyota, come by today for a free test drive. We are conveniently located at 2291 US Route 130 S. Brunswick, NJ 08810 and we hope to see you soon!