For drivers in Freehold, Brunswick, and Lawrence who enjoy the finer things than life, there's no better car class than the luxury sedan. Luxury sedans offer some of the most impressive styling, performance, and technology of any vehicle class on the road. If you're looking for the best that the luxury class offers, then the car that should be at the top of your shopping list should be the exciting Toyota Avalon.
Read about the top features of the 2017 Toyota Avalon and find out why this vehicle is your best bet for an amazing luxury vehicle this model year.
Choose an Exterior that Stands Out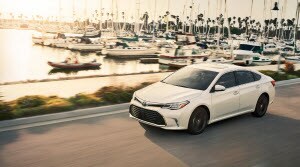 The primary reason that consumers choose luxury sedans is the unique, attractive styling offered by these vehicles. For the best luxury styling possible, you need to take a close look at the irresistible Toyota Avalon. Every inch of the Avalon's exterior has been carefully designed to be as attractive as possible, guaranteeing you'll turn heads wherever you go.
Stunning is the best word to describe the Avalon's exterior, and you'll agree when you experience this vehicle. Some of the top style features you'll have access to when choosing the Avalon include available LED headlights and tail lights, one of the boldest grilles in the luxury class, and a sleek dual exhaust.
Performance You Can Depend On
Although many consumers in Freehold, Lawrence, and Brunswick might not be aware of it, luxury vehicles provide some of the best performances of any class, and the 2017 Toyota Avalon is no exception.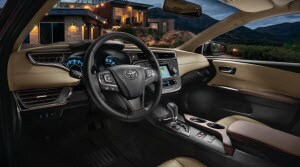 The Avalon comes loaded with great performance features sure to excite, which starts with the powerful V6 engine that can produce 268 horsepower. In addition, for an added performance boost, the Avalon includes a Sport mode and electric power steering, as well as paddle shifters and a fantastic suspension. Getting the high level of luxury performance that you deserve is easier than you've imagined when you get behind the wheel of the Avalon.
Be Entertained and Informed with Great Technology
If you're in the market for a new car, particularly a luxury car, then one of the factors you may have considered is what kind of technology you should look for. Possibly the best feature of the newest Toyota Avalon is having access to a great technology suite that's both useful and entertaining.
A futuristic Head-Up Display gives up-to-date information on the functioning of your vehicle. HD Radio Predictive Traffic provides instant, current traffic updates so you can avoid delays. Toyota's Entune™ infotainment system gives multiple entertainment apps, including excellent streaming radio.
Test Drive the 2017 Toyota Avalon
Consumers looking for a new luxury sedan in the coming year have a perfect choice in the amazing Toyota Avalon. If you're interested in learning more about the 2017 Toyota Avalon, you need to visit Dayton Toyota today to schedule a test drive.
At Dayton Toyota, our focus is on you, our customer, and we're ready to do everything in our power to connect you with a new or pre-owned vehicle that'll be perfect for you. Start shopping with us today.