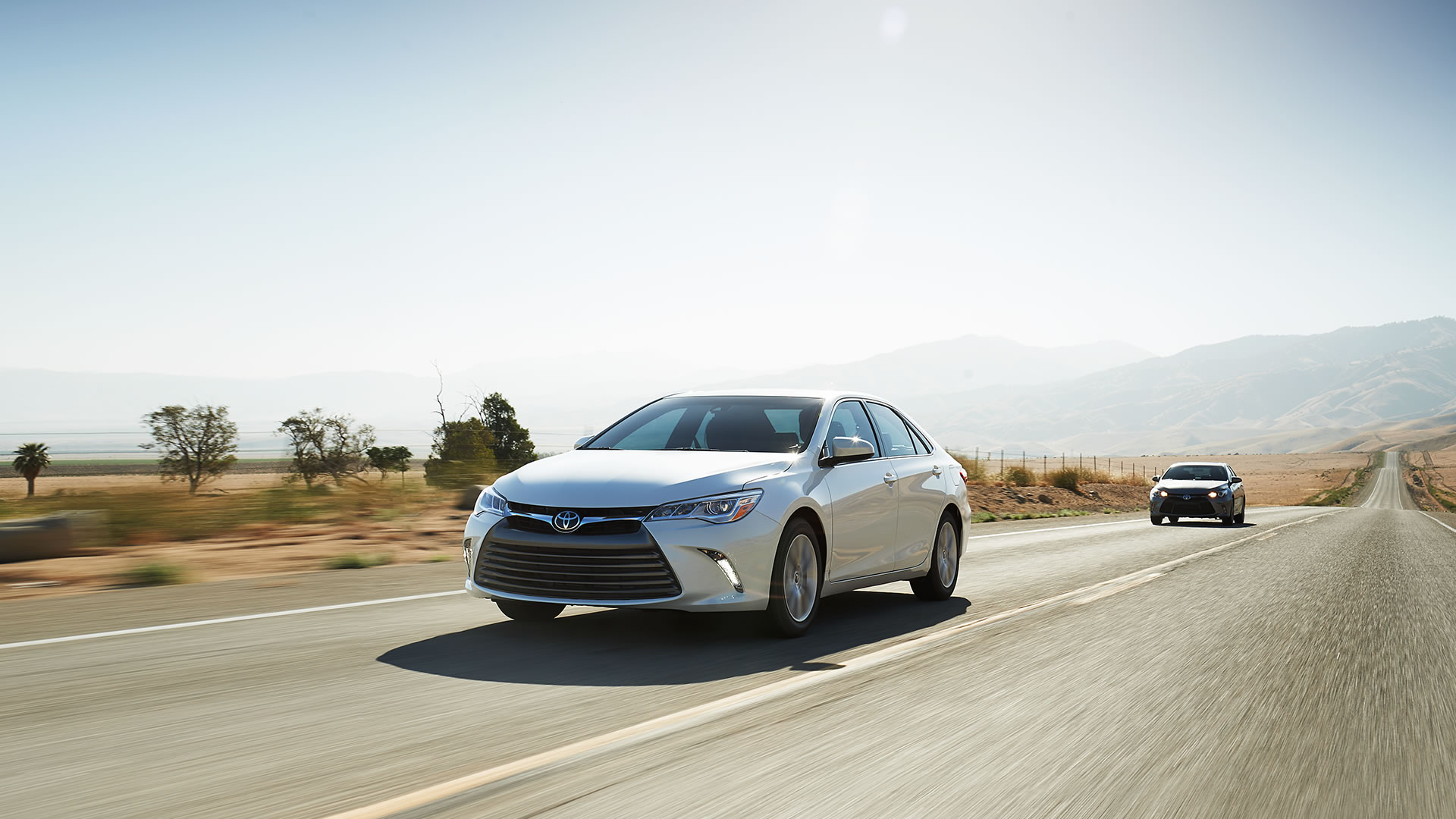 The Toyota Camry has been one of the classic mainstays of the manufacturer's fleet for years. Toyota knows that the sedan is a driver favorite, so they decided to leave the basic formula alone and opted instead to add new equipment. This equipment includes advanced new age technology and stylish exterior design features. To sweeten the deal, Toyota has made many of these features standard, allowing for affordable state-of-the-art vehicle technology.
If you're located in the South Brunswick, Freehold, or Lawrence, NJ, area, head down to Dayton Toyota to view the 2017 Toyota Camry.
The 2017 Toyota Camry - NOW IN STOCK!
Trims
Toyota offers seven trim levels for the 2017 generation of the Camry, including a hybrid version for environmentally conscious drivers. The seven trims are:
LE
SE
XSE
XLE
Hybrid LE
Hybrid SE
Hybrid XLE
Three Engines
The Camry offers three engines. Two are made specifically for the standard and upgraded trims. The last is the specially designed hybrid model engine.
The first engine is a 2.5L 4-cylinder 16-valve dual VVT-i. The standard Variable Valve Timing (VVT) transmission improves fuel economy and reduces emissions. The intelligently designed transmission is also built with sequential shift mode for extra maneuverability. This engine gets up to 178 horsepower.
The second engine is the 3.5L V6 24-valve dual VVT-i. This engine is available for higher trim levels and gets up to 268 horsepower, while the Hybrid engine is a 2.5L 4-cylinder 16-valve dual VV-i.
Exterior
Toyota calls the new exterior look an aggressive design. This model has features that are reminiscent of a sports car or a luxury vehicle. In fact, the front grille is a sport mesh grille, which is commonly found on sports cars. The LED headlights and Daytime Running Lights are accented by black bezels to give them a luxurious composition. The dual exhaust system also features chrome exhaust pipes, which gives them a look that is very similar to a muscle car exhaust system. The body of the vehicle sits on 18-inch alloy wheels, perfect for navigating the New Jersey terrain.
Interior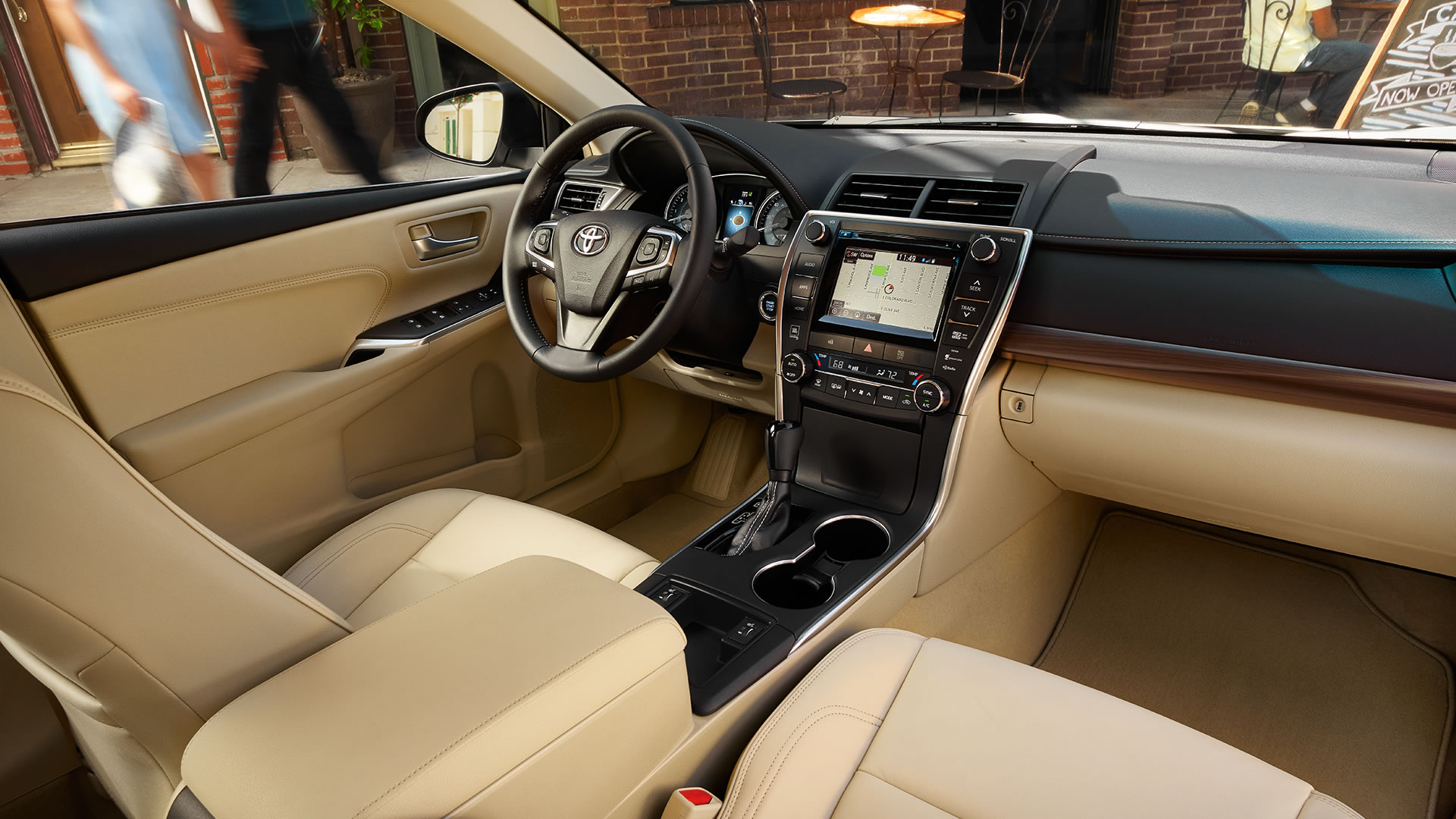 The interior further echoes the athletic aesthetic with sports seats. These seats are made of ultra-suede and feature red double-stitching, making them both stylish and comfortable. For more style, Toyota has added a power moonroof that opens or closes with a push of a button. Manufacturers are also sensitive to the spatial needs of rear passengers, so they have built cutaways in the rear seats that nest the legs and knees for added comfort. Passengers get a combined 191 inches of body room.
Star Safety System
The Star Safety System was made to improve driver awareness on the road. This system is designed to sense dangers on the road and to help the vehicle safely avoid obstructions. It also helps the vehicle react quickly during impacts. It features:
Enhanced Vehicle Stability Control
Traction Control
4-Wheel Anti-Lock Braking System
Electronic Brake Force Distribution
Smart Stop Technology
Brake Assist
Dayton Toyota
Dayton Toyota near South Brunswick, NJ, proudly serves the South Brunswick, Freehold, and Lawrence, NJ, areas. We have the latest 2017 Toyota Camry trims available, as well as many other Toyota models. Call to schedule a test drive and speak to a member of our staff about your upgrade and finance options. Contact us today!