The 2017 Toyota Tundra is a great choice for hard workers and off-road enthusiasts alike. Drivers have always prized the Tundra for its versatility, and this newest edition is no exception. Its sturdy interior and exterior combined with its powerful equipment under the hood make the new Toyota Tundra one of the most sought-after pickup trucks on the market. Discover more about this versatile vehicle in Dayton Toyota's review of the 2017 Toyota Tundra.
Exterior Features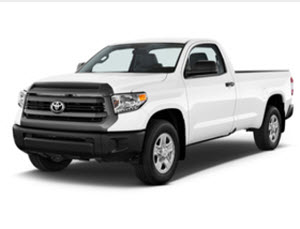 The exterior features make this newest edition to the Tundra family ideal for handling tough jobs and navigating rough terrain. Its automatically lowering tailgate is a favorite feature, preventing both damage to the tailgate and the loud bang as you lower it to load up the truck bed. Even so, this isn't a truck that's meant to be babied; its bumper now comes in three sections, making damaged areas easier and cheaper to replace.
One of the most drastic improvements of the new 2017 Toyota Tundra is its increased approach angle, now boasting 26 degrees. Its departure angle is more impressive as well, now at 16 degrees. Additionally, the new Tundra lacks running boards, allowing for a maximum ground clearance of 10.6 inches.
Interior Features
Interior features include classics like an AM/FM radio and CD player, as well as newer additions like USB and auxiliary inputs, as well as Bluetooth® connectivity. The 6.1- to 7-inch touchscreen audio and entertainment system makes navigating your new truck's features a breeze, and six speakers allow you to get the most out of your entertainment system.
Technology for Comfort and Safety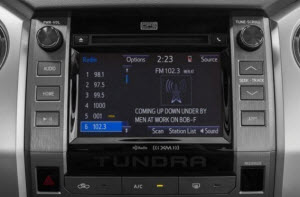 One of the biggest qualms of being a truck driver is visibility and parking difficulties. The new Toyota Tundra comes with both Blind Spot Monitoring and parking sensors, making navigating and parking in overcrowded areas easier than ever. Remote keyless entry lets you get into your truck, minus the struggle to juggle with your keys.
Size and Power
The 2017 Toyota Tundra comes in three main models that combine luxurious passenger space with utilitarian bed space. The Regular Cab offers the most bed space with a bed length of 8.1 feet, while still comfortably seating up to five people. The Double Cab offers a 6.6-foot-long bed or an 8.1-foot-long bed, depending on the trim. It can accommodate up to five people in the bucket seats or up to six if you choose the variant with the bench in front. The CrewMax Cab only offers a 5.6-foot-long bed, which it makes up for in the cab by seating up to six people more comfortably than many passenger cars.
To haul such loads, the new Tundra comes with an 8-cylinder, gas-powered, 6-speed automatic engine. The powerful 4.6L option features 310 horsepower at 5600 RPM and 327 lb-ft of torque at 3400 RPM. The larger 5.7L option boasts 381 horsepower at 5600 RPM and a torque of 401 lb-ft at 3600 RPM. All Tundra models are capable of two- or four-wheel drive and have an average towing capacity of 10,500 pounds.
Come Test Drive a 2017 Toyota Tundra Today!
Dayton Toyota has been serving the South Brunswick, New Jersey, region for over 50 years, and our trustworthy representatives are standing by to help you find the right vehicle to suit your wants and needs. Contact us to schedule an appointment to test drive a 2017 Toyota Tundra today.