When it comes to reliability and dependability, the Toyota Corolla is a consumer favorite. Since its introduction to the automobile market in the 1960's, Toyota has sold over 40 million Corollas, making it one of the best, if not the best, selling cars in history. High-quality, yet affordable; efficient, yet not excessive; the Corolla is widely known for being a well-rounded and respectable vehicle. The 2018 Toyota Corolla offers an all-new model of this time-honored classic, which you can check out for yourself at your local Dayton Toyota. Let's learn a little bit more about the latest and greatest Corolla models.
Powertrain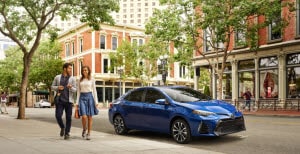 The engine of the 2018 Toyota Corolla is much the same as previous Corolla models and comes with a 1.8-L, four-cylinder engine that's capable of 132 hp and 128 lb.-ft. of torque. The only exception to this is the Le Eco trim level, which sacrifices two lb.-ft. of torque for a greater horsepower of 140 for optimum efficiency. While the powertrain may appear modest in comparison with more powerful sports cars, the Corolla is than capable of comfortably and efficiently getting you from Point A to Point B. All trim levels operate on a continuously variable transmission, although the SE does have a six-speed manual transmission option.
Trim Levels and Features
Along with the LE Eco and the SE, the 2018 Toyota Corolla is available in four other trim levels. These include the L, LE, XLE and XSE. Across all trim levels, you're looking at standard features that include Bluetooth connectivity, USB and AUX availability, a 6.1-inch touchscreen infotainment system, a six-speaker audio system, a reversing camera, illuminated vanity mirrors, power windows and locks and air conditioning. The higher trim levels, the XLE and the XSE, offer an upgraded infotainment system, a full navigation system, synthetic leather upholstery and a power driver's seat. In addition to these models, the 2018 Toyota Corolla is also available in a hatchback as its own distinct iM hatchback model.
Safety Technology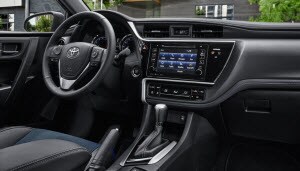 As is the standard for Toyota vehicles, the 2018 Toyota Corolla excels in terms of innovative safety technology. The Toyota Safety Sense suite is a set of standard safety features that come with all trim levels and includes adaptive cruise control, automatic high beams, automatic emergency braking and lane-departure warning with steer assist. These innovative features that are automatically included across every trim level have earned the all-new Corolla a five-star rating from the NHTSA (National Highway Traffic and Safety Association), as well as the coveted status of Top Safety Pick+ from the IIHS (Insurance Institute for Highway Safety).
Test Drive a 2018 Toyota Corolla Today!
If you think the 2018 Toyota Corolla is the car for you, contact your Dayton Toyota dealer to schedule a test drive. Serving the Brunswick, Freehold and Lawrence, NJ areas, we have a wide selection of pre-owned and new vehicles, including the 2018 Corolla. We'd love to meet you and help you find your ideal vehicle, so contact us about your first test drive today!