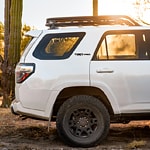 The Toyota 4Runner boasts impressive city/highway fuel economy, but it's also quite at home in off-road scenarios. Its smooth ride, powerful engine and selectable drive modes help it excel in a wide array of driving scenarios. Our Dayton Toyota selected the following capability features to showcase the Toyota 4Runner's power.
Selectable Terrain Modes
Multi-Terrain Select is the name of the Toyota 4Runner's system of selectable drive modes. All the rage these days, selectable drive modes tweak engine, transmission, brakes and suspension. Each mode corresponds to a type of terrain or driving scenario. When you select a mode, the Toyota 4Runner adjusts itself to maximize control and traction on South Brunswick streets and in your favorite off-road scenarios.
Undercarriage Armor
Designed to ford high water and sail over rocky terrain, the Toyota 4Runner boasts major undercarriage armor. Its reinforced skid plates protect the Toyota 4Runner's fuel tank, suspension and engine. High ground clearance and approach/departure angles ranging from 26 to 35 degrees means that the Toyota 4Runner overcomes road obstacles, steep inclines and sharp declines smoothly and gracefully.