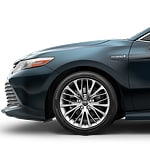 Environmentally conscious South Brunswick consumers choose the Camry hybrid for the opportunity to reduce their carbon footprint while saving money at fueling stations. The vehicles have powertrains designed for performance while giving a smooth, quiet ride. The vehicles exteriors are both sporty and elegant.
The aggressive-appearing front-end gently curves downward and boasts a series of sharp angled lines. All of the meshed grille, meshed engine vent, headlights and metallic accent angles converge toward the center of the front. A side view reveals an aerodynamic profile that includes slightly flared wheel wells and a sharp body line that draws the eye toward the vehicle's rear.
Our Dayton Toyota Camrys have a trunk lid spoiler that boasts the Toyota emblem. Angled lines are less severe but no less apparent at the rear. Narrow, angled brake and taillights ride high on the trunk and wrap toward the vehicle's sides.