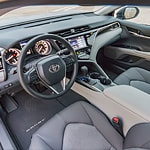 Are you after a vehicle that will boost your confidence as you drive around in South Brunswick? The Toyota Camry has the driver assistance features you need to feel good at the wheel. Here are a few of our favorite advanced features here at Dayton Toyota.
Driver strain can make you dread getting behind the wheel. The new Camry comes equipped with automatic high beams, along with adaptive cruise control, reducing your stress while at the wheel. You also get traffic sign recognition, allowing you to easily see signs that you may have missed as you drove by.
On select models, the Camry has a surround-view camera system. This gives you a bird's eye view of your sedan and its surroundings, making it easy to park in any situation. Reverse automatic emergency braking, another handy feature in stressful situations, is also available on select models of the Camry.