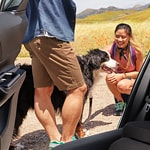 Fuel economy, comfort, and performance are among some of the many factors that South Brunswick shoppers consider when looking for new cars. However, for those who own dogs, finding pet-friendly features is equally important. At Dayton Toyota, we're sharing information on all of the best design characteristics and amenities that local pet owners can find.
Ample Leg Room at the Back Seat
If your pet rides in a carrier, you'll want to make sure that there's plenty of room at the backseat for accommodating it. You certainly don't want your pet to feel claustrophobic or cramped. Moreover, you want it to be easy to load and unload the carrier at all times. It's also a good idea to check for flat floors so that carriers or crates aren't positioned at an uncomfortable angle.
Window Locks
Locking windows are incredibly handy when riding around with young children. However, dogs have a tendency to rest their paws right where automatic window controls are positioned. If you can't lock the windows, your pet might roll them down to an unsafe level when you've got your hands on the wheel and your eyes on the road.