Dayton Toyota is Proud to Partner with StageHouse Tavern to Support 1 Solider 1 Dog 1 Team!
Dayton Toyota prides ourselves on giving back to the South Brunswick Community, and serving first responders and those who have served at home and abroad!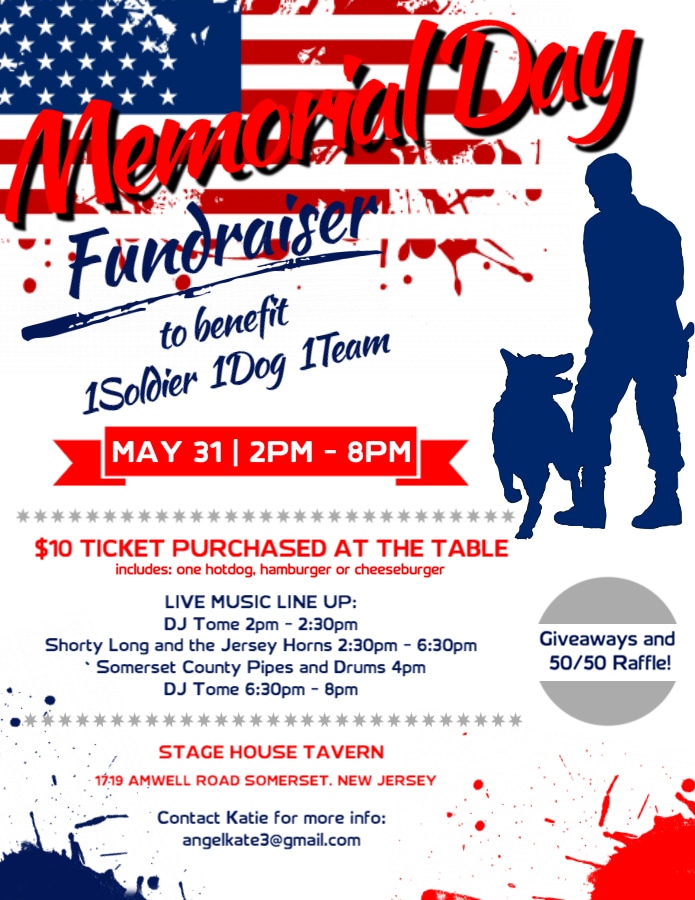 We are proud to announce our partnership with StageHouse Tavern in Somerset, NJ for this important event to honor the service of our troops this Memorial Day! Visit us at 1719 Amwell Road for an outdoor event involving live music, giveaways, 50/50 raffle and more to support a great cause!
About 1 Soldier 1 Dog 1 Team
Dayton Toyota is proud to partner with 1 Soldier 1 Dog 1 Team to support those who have answered the call to serve our country at home and abroad. They know that soldiers who are lucky to return home need the support of a team and a community that has their back. They also make sure that firefighters and other first responders who serve locally don't go forgotten and miss out on the support and care that they need. That's where 1 Solider 1 Dog 1 Team comes in. Tim Duffy is a retired NYC Firefighter who served on 9/11 and he has seen firsthand the affects of PTSD on both combat and non-combat veterans and first responders. He is committed to matching combat veterans and first responders with highly trained emotional support dogs to give everybody what they really need, each other!
You can learn all about Tim Duffy and 1 Soldier 1 Dog 1 Team by visiting their website, or joining us for our Memorial Day Fundraiser at StageHouse Tavern starting at 2pm on May 31st.

We thank you for your contributions and we look forward to seeing you there!