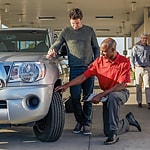 Toyota Care comes with all new Toyota models. If you purchased a new Toyota within the past 2 to 4 years, you likely have a Toyota Care maintenance plan. Most of the newer models come with coverage for up to 2 years. However, Toyota Mirai has an extended maintenance program that offers up to four years of coverage.
Toyota recommends stopping in for maintenance at Dayton Toyota located in South Brunswick every 6 months or when you reach 5,000 miles. This maintenance includes free engine oil changes, tire rotation, filter replacements, fuel adjustments, and a multi-point inspection. It's important that you always check for Toyota-trained technicians and Toyota Genuine Parts, which are covered under the Toyota Care plan.
With 24 hours of roadside assistance, you can call Toyota Care any time to get help on the road. This means that if you get a flat tire or your battery fails on the road, then you can call roadside services to get help. This even includes lockout protection. If you need any help with Toyota Care, please stop by our dealer or schedule a visit online.