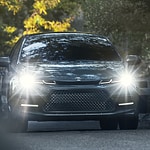 The Toyota Corolla is one of the most popular cars on the market today. The car has been in production for over 50 years and it's not hard to see why. There are many great features that make this car stand out from others, but what are they? We will take a look at some of the best technology features below!

1. Configurable Dash Display

The dash display of the car is very configurable, with different modes available to suit your mood. The base 'Eco' mode shows you everything in simple terms without too much distraction. You can then switch into 'Normal' or 'Sport' mode which allows you to see more information on your dashboard for that added depth.

2. Hi-Res Touchscreen Display

The display dashboard is also a touchscreen, allowing you to change your music and other settings on the go with ease. The display is very high resolution too, meaning it is easy to read whatever information you are looking for!