If you want to buy new tires for your vehicle, you're first going to need to know what size tires your car or truck needs. One way to do that is to determine what size tires it currently has. However, that's easier said than done if you don't know how to read tire size.
The markings on the side of your tire might look like a random string of letters and numbers, but each one of them represents a rating, size, or other important information. In this article, our team at Dayton Toyota will help drivers from across the South Brunswick, Freehold, and Lawrence area learn how to read their tire size.
Understanding the Markings on Your Tire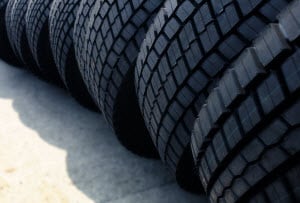 If you take a closer look at the sidewall of your tire, you'll probably notice a few different stings of letters and numbers. The most commonly referenced markings are those that detail the tire's class, width, height, type, wheel size, load capacity, and speed rating. All of this information is important to consider when selecting new tires for your vehicle.
Here's an example of what that string of markings might look like: P200/42R18 90Y
In the example above…
P = Class
200 = Section Width
42 = Aspect Ratio
R = Tire Type
18 = Wheel Size
90 = Load Index
Y = Speed Rating
Class
There are two standard tire classes, Passenger Car, denoted by the letter P, and Light Truck, denoted by the letters LT.
Section Width
This is the distance from one sidewall to the other expressed in millimeters. Essentially, this is the width of the tire.
Aspect Ratio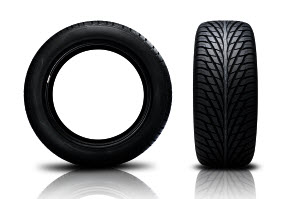 Instead of giving you the height of the sidewall in millimeters, it comes as a percentage in relation to the section with. So if you see the number 42, you know the sidewall height is 42% of the section width.
Tire Type
Radial tires are the most common for passenger cars and light trucks given their versatility and affordability. They're signified by the letter R.
Wheel Size
This number represents the diameter of the wheel (in inches) that the tire can fit.
Load Index
Generally speaking, most passenger cars and light trucks fall between 70 and 126. These numbers correspond to weight limits. 70 is equal to 739 pounds while 126 is equal to 3,748 pounds. This is the maximum weight the tire is able to withstand.
Speed Rating
Similar to how the load index is a weight represented by a number, the speed rating is a max speed represented by a letter. W and Y are the highest speed ratings. R, S, and T are probably the most common.
Additional Info
It's likely that you'll see other markings on your tire other than those discussed above. If you have any questions about those or the information covered in this article, please reach out to us at Dayton Toyota. We can help answer any questions you might have. Our professional team of technicians have been helping drivers like you from around the South Brunswick, Freehold, and Lawrence area for years. Contact us today!