For many consumers in South Brunswick, Freehold, and Lawrence, the crucial factor in purchasing a new car is having multiple options for customization. You want to make sure that your car fits your needs exactly, whether you want luxury style or fantastic performance. While several cars promise you options to match your car to your lifestyle, a model that truly delivers in this regard is the Toyota RAV4.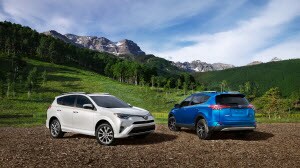 Offering several excellent trim levels, the newest version of the RAV4 allows you to choose a vehicle that fits you like a glove. Learn more about the quality trim levels of the 2017 Toyota RAV4 and find out why this is your perfect vehicle for maximum personalization.
LE
The base level trim of the RAV4 is known as the LE, and it offers some of the most basic yet useful features that a discerning car owner could ask for. Helpful safety devices, riveting technology, and intuitive driver assist features are all in the offering when you choose the LE trim level.
A few of the top features of the LE trim that you should know about include a rearview camera system, an audio system that includes Bluetooth connectivity, electronic stability control, and multiple air bags for a high level of safety.
XLE
If you want to step up the features included in your Toyota RAV4, then you should consider choosing the XLE trim level. Upgrading to the XLE trim means getting all the great features of the LE trim with additional features centered around luxury and entertainment.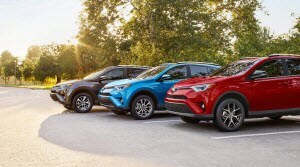 When it comes to luxury, the XLE trim provides such features as automatic climate control, a leather trimmed wheel, and a power moonroof. For entertainment and technology, you can expect such stellar options as voice text messaging assist, streaming HD radio, and heated exterior mirrors for safer driving.
SE
For many consumers, the significant part of choosing a trim level is total driver comfort, and that's exactly what you'll get by selecting the RAV4's SE trim. The SE trim builds on the luxury features of the XLE trim by offering heated front seats with adjustable lumbar support, steering wheel controls including a paddle shifter, and a push button start for increased driver convenience.
Other features of the SE trim include a rear power liftgate, daytime running lights, and a leatherette trimmed dash. You can also expect useful driver assistive features such as blind spot monitoring and a cross traffic alert in the rear of the vehicle.
Pick Your Perfect 2017 Toyota RAV4 Trim in Person
Clearly, the Toyota RAV4 is the only vehicles that consumers in Lawrence, Freehold, and South Brunswick should consider if they want to choose from some of the best trim levels on the market today. Like an important decision, picking the right trim level for you is easier when you can examine them up close and personal, which is why you need to visit Dayton Toyota today to test drive the 2017 Toyota RAV4.
The team at Dayton Toyota can walk you through all the features of the various RAV4 trim levels to make sure you get the options that are right for you. Contact us today!