When it comes to automobiles, what are the most important features? Entertainment technologies? Engine power? Interior amenities? The answer is none of the above-a car's safety system is its most crucial feature.
After all, these are the features that protect you, your children, your family, and your friends; these are the features that protect the other drivers, passengers, and pedestrians on the road; these are the features that could save your life.
With that in mind, our team at Dayton Toyota would like to introduce the high-tech Toyota Star Safety System. If you have any further questions about this state-of-the-art suite of smart safety technologies, don't hesitate to reach out to us.
Vehicle Stability Control (VSC)
Wheel slippage and loss of traction can be major issues, especially when you're driving on wet surfaces or tricky terrain. Toyota's Vehicle Stability Control system helps to mitigate these issues by diminishing the engine power and engaging the brakes when necessary.
Traction Control (TRAC)
Toyota's Traction Control system (TRAC system) works similarly to the VSC system outlined above. It takes advantage of wheel-speed sensors to determine if a certain wheel is turning more quickly than one on the opposite side-a telltale sign of impending traction issues.
Anti-Lock Brake System (ABS)
While the TRAC system is primarily focused on how quickly the wheels are turning, Toyota's Anti-Lock Brake System (ABS) is more focused on how quickly they're spinning. Once you apply the brakes, the software will stay on the lookout for any wheels that are decelerating faster than the others-if it finds any, it'll take the proper actions.
Electronic Brake-Force Distribution (EBD)
Toyota's Electronic Brake-Force Distribution function (EBD function) is a part of its ABS. When you hit the brakes hard (i.e. in an emergency situation), your vehicle's weight distribution will shift. This tech accounts for that shift by reducing the brake pressure on the wheels that carry less weight.
Brake Assist (BA)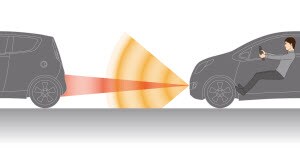 Like the EBD function, the Star Safety System's Brake Assist (BA) will help you during emergencies, especially during an alarming situation requiring sudden, unexpected, or panicked braking. If the BA detects that you're not applying enough pressure, it'll give you a hand-no, it'll give you a foot-well, it'll give your foot a hand. There you go!
Smart Stop Technology® (SST)
Last, but certainly not least, you'll have Smart Stop Technology® (SST) protecting you. Sometimes, when you need to stop suddenly, you might accidentally hit the brakes and the accelerator at the same time. The Smart Safety System's SST will ensure that the vehicle actually stops during these once-dangerous contemporaneous pedal depressions.
Toyota Star Safety System - Contact Us to Learn More
If you live in Brunswick, Freehold, Lawrence, or one of the surrounding communities, and you have any more questions about the Toyota Star Safety System, just contact us at Dayton Toyota.
Our representatives are here to serve you, and they'd love to answer all your questions. Feel free to reach out right now!