Since its market debut, the Toyota Tacoma has become the midsize truck of choice for hundreds of drivers near South Brunswick Township, Plainsboro Township and New Brunswick. There are several reasons to consider the Toyota Tacoma, but how do you know if it's the right pickup for you?
Below, Dayton Toyota compares the Tacoma and Nissan Frontier to help you decide. Read on to find out how the Tacoma measures up to the competition.
Design at a Glance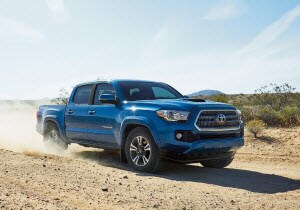 To maintain its competitive advantage, the Tacoma upgraded its interior and exterior for 2016. A lean frame amplifies its aggressive stance, while premium interior materials give its cab an upscale ambiance.
Combining strength and sophistication, the Tacoma stands out wherever it goes. It offers seating for four and plenty of cargo space, especially with its innovative and flexible storage options.
The 2016 Nissan Frontier also comes with refreshed exterior features. Its interior is cozy enough, but its design is starting to look dated. Four passengers have plenty of space to stretch out, even when the cab is loaded with cargo.
Performance and Powertrains
The 2016 Nissan Frontier and Toyota Tacoma each offer rear- or four-wheel drive, come with a base four-cylinder engine and deliver comparable horsepower ratings. Bu in terms of fuel economy, the 2016 Toyota Tacoma is the stronger choice.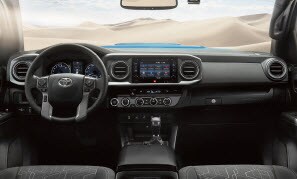 Drivers can get an EPA-estimated 17 city/24 mpg highway with its four-cylinder, while the Frontier gets 15 mpg city/ 23 mpg highway. This might not seem like a big difference initially, but the 2016 Toyota Tacoma can help you cut down on gas consumption in the long run.
Each truck offers a V6 upgrade, which kicks power and performance up a notch. With the 2016 Frontier, drivers get a 4.0L, which generates 261-horsepower. The Tacoma's 3.5L is slightly smaller, but it kicks out an impressive 278-horsepower that doesn't hold back on the highway.
When paired to its retuned suspension, the 2016 Tacoma's V6 delivers a smooth and athletic ride. The Frontier is rougher while accelerating.
Test Drive a 2016 Toyota Tacoma
Even though the 2016 Nissan Frontier offers several useful features, the 2016 Toyota Tacoma's efficiency, power and capabilities set the standard for midsize trucks. The Toyota Tacoma is a standout in its class and Dayton Toyota has a full inventory for truck drivers near Plainsboro Township, South Brunswick Township and New Brunswick to consider.
If you're considering a 2016 Toyota Tacoma, check out our vehicle review, which breaks down everything you need to know about its design. This is a great resource for learning about the 2016 Tacoma's safety features, technology and performance, so be sure to take a look before visiting a dealership.
When you're ready to get behind the wheel, schedule to test drive a 2016 Tacoma at Dayton Toyota, conveniently located at 2291 U.S. Route 130, South Brunswick, New Jersey, 08810. If you have any questions, please contact us online, or by calling the Dayton Toyota sales department at (732) 329-9191.