Car shoppers in Brunswick, Freehold, and Lawrence know the key to purchasing the perfect vehicle is choosing the right class. For consumers looking for an automobile that is ideal for both work and play, the only class to consider is full-size trucks. While there are many excellent choices in this powerful class, the two models consumers need to know more about are the Toyota Tundra and the Chevy Silverado.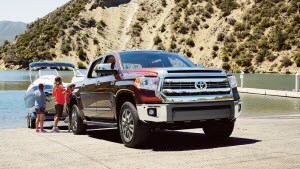 Although both vehicles are an excellent choice, only one can be the best of its class. Compare the Toyota Tundra vs. the Chevy Silverado so that you can decide which one of these trucks is right for your driving needs.
Toyota Tundra vs Chevy Silverado: Technology
When consumers think about full-size trucks, the first thing that comes to mind usually isn't exciting technology. However, fun and useful technology features are exactly what you'll get when you hit the road in either the Toyota Tundra or the Chevy Silverado.
Innovation is the name of the game when it comes to the Silverado. This truck offers consumers such incredible technology features as available wireless phone charging, 4G LTE Wi-Fi capability, and a Chevy MyLink infotainment system. The Tundra's technology is putting information at your fingertips with a useful multi-information display, a standard rearview camera, and an integrated navigation system.
Toyota Tundra vs. Chevy Silverado: Utility Options
The majority of consumers interested in purchasing a full-size truck want a vehicle that will allow them to complete tough projects. Fortunately, when you choose the 2017 Toyota Tundra or the 2017 Chevy Silverado, you'll be able to choose from several excellent utility features.
For example, the Silverado offers the option to fully customize your vehicle in whatever way you need, meaning you can build your Silverado as a work vehicle or to fulfill your weekend warrior dreams. With the Tundra, you'll be able to maximize the utility of your truck with three available bed sizes, an easy open liftgate, and a deck rail system that allows you to secure your heaviest items.
Protect Yourself with Advanced Safety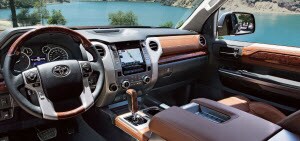 Another area where discerning consumers in Lawrence, Freehold, and Brunswick are sure to be impressed by both the Tundra and the Silverado is their safety features. Each of these trucks is committed to providing the safe driving experience you deserve.
In addition to a teen driver safety system, the Silverado includes such active features as lane keep assist and low speed forward automatic braking. On the other hand, when you drive the Tundra, you'll get comprehensive safety thanks to safety technology like a blind spot monitor, a standard Star Safety System and eight airbags.
Drive the 2017 Toyota Tundra
In a head-to-head competition for the title of the year's best full-size truck, the clear winner is the Toyota Tundra. Safety, utility, and fun technology are the calling cards of this excellent vehicle, making it an excellent choice for truck lovers everywhere. Find out if the 2017 Toyota Tundra is the right vehicle for you by scheduling a test drive today at Dayton Toyota.
The team at Dayton Toyota is wholly focused on helping our consumers find the vehicle that meets their needs. Whether it's the Tundra or one of our other outstanding new or pre-owned models, Dayton Toyota is here to assist you.