Many customers in Brunswick, Freehold, and Lawrence are used to coming to our page to get reviews on two competing vehicles from similar manufacturers. Still, there are those who are truly brand loyal, and just want to know which of two closely-related trucks from the same auto maker are best for them.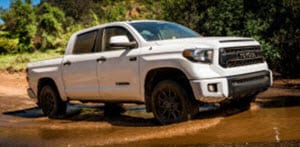 A good example of this is the Toyota Tundra and Tacoma, two hard-performing pickup trucks with a reputation for quality. So, which one is better for your needs? As with any two pickups, it truly comes down to what you're looking for. Check out a comparison review of the 2017 Toyota Tundra and the 2017 Toyota Tacoma, and learn which may be the best choice for your on- and off-road needs.
2017 Toyota Tundra
One of the most impressive aspects of the new 2017 Toyota Tundra is how configurable it is. There are over 48 different configurations you can build between six trim levels, three different bed lengths, and three styles of cab. It's built on a powerful V-8 powertrain and is available with an outstanding technology, infotainment, and telematics suite, coming standard with the Toyota Entune interface driven by a 6.1-inch touchscreen, and a standard towing package.
The maximum towing capability for this truck is impressive, too, at 10,500 pounds. The engine delivers 310 horsepower, and it's got a huge fuel tank at 38 gallons. The key to this beast of a truck is performance and customization.
2017 Toyota Tacoma
The 2017 Toyota Tacoma, on the other hand, delivers astonishing performance via its innovative take on a six-cylinder powertrain, as well as offering tons of high-end luxury and comfort features. It's also known for delivering fairly impressive fuel economy for a midsize pickup truck, delivering an EPA-estimated 19 MPG in the city, and 24 MPG on the highway. Like the Tundra, it comes with the Entune infotainment package.
You've got a choice of four-cylinder or V6 models of engine here; the stock version comes with a 2.7L four-cylinder, which gives superior fuel economy. Upgrading to the V6 gives you a performance upgrade to 278 horsepower while still maintaining solid economy, and can be equipped with a towing package up to a capacity of 6,800 pounds.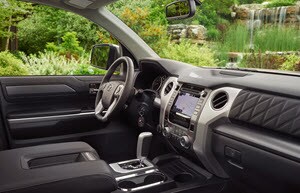 Check out Your Choice at Dayton Toyota
Determining which of these outstanding new pickups is the best for you really comes down to what your needs might be. The Tundra is designed for work and performance. If you're going to be hauling and towing on a regular basis, it's the way to go. The Tacoma, on the other hand, really shines in off-roading performance, boasting a superior suspension and performance in tough conditions while delivering better fuel efficiency and solid utility.
If you're not sure which choice between the 2017 Toyota Tacoma and 2017 Toyota Tundra is right for you, the best way to find out is to take a test drive. For drivers in Freehold, Lawrence, and Brunswick, Dayton Toyota carries a complete line of Toyota cars, trucks, and SUVs. Stop into our showroom and check them out for yourself today!